9
min read
It's weird to say this but it gets easier growing up as a Nigerian Queer. It was quite terrible when I didn't know what was wrong with me. It was a lot. We all have our unique stories as gay men growing up in Nigeria but what is cut across the board is alienation from everyone else. You feel different and if you are an effeminate man, you'd be constantly reminded that you are actually different.
My name is Nonso and I grew up in Lagos, with a family of two sisters and a really terrible brother. Terrible because home would have at least felt like home if he didn't live in it. I think it has more to do with men and their perception of you and how you should think and behave like them cause my dad was also almost like him. When I was six years old or so, I used to play dress-up with my little sister and we would put on a show for dad and mum, the whole family enjoyed watching except for my elder brother. As I grew older, I could see that it also started to disgust my father too. He probably thought I'd grow out of it but I didn't. He wasn't violent though, he never was, that was my brother's job.
I really don't blame my brother for being violent,  maybe he always wanted a brother and when I was born he was so excited to watch me grow and do 'manly' things with him. Well, I tried to like those things but it just wasn't for me. One time I went to watch football with him and not once did I notice the ball but instead was blown away by the 22 gorgeous men on the field. 
SURVIVING THE OUTER WORLD
The bullying I faced as a child was more psychological than physical. Maybe it's because I wasn't exposed to society a lot. I never went out, I went to school and stayed quiet and apologized when I was noticed. The only physical abuse I remember was from my brother. 
For Further Discussions and Bants, Click Here to Join Our Telegram Channel / Chatroom
It was easier to survive in the outside world when I learned to be invincible. Talk less so nobody laughs at my voice. Fold my arms so I am not caught gesticulating. Walk around less so nobody laughs at my ass and how I walk like a turkey. With time I was invincible and yeah…it got easier. Didn't have any friend but I was fine with that.
I knew something was wrong with me when I didn't fancy girls the way my peers did. I remember the first day I got a hard-on when a boy touched me. I belonged to the choir department in the church and this new boy joined us. He sat beside me and started asking loads of questions and every time our eyes met or he touched me, I'd get hard. I moved away and went to sit somewhere else. I was only 14 and my prayer that day was that God amputates my dick or it stops functioning because most times I'd get hard and it won't go flaccid for a very long time.
Stay Updated!!! Click Here To Follow Us On Twitter
Now school time…I couldn't bathe in the public bathroom when I stayed in the hostel in university. It was always mad, embarrassing, and uncomfortable. My roommates made fun of me for hiding because they thought I didn't like people seeing me naked.
What about the time I tried dating a girl? Total disaster!! I resolved to watch heterosexual porn cause I wondered why the boys really liked it. I thought that was why they liked girls or what made their relationship with them smooth. It never worked for me.
Prepare For Real-life Visual Story Telling!!! Click Here To Subscribe to Our YouTube Channel
To be honest this phase of my life was the loneliest. The fact that I didn't know what I was or why I felt how I felt. I also couldn't talk to my parents about it because I knew I wasn't supposed to feel this way. 
WEARING MY TOUGH SKIN
As I grew older, the jokes became stale because it was the same old boring jokes I kept hearing. I tried to fix myself and it didn't work, so I started to accept myself. Meeting more queer people made me bolder and more vocal about my sexuality.
The first openly Nigerian queer I met was a breath of new air, finding out I wasn't alone was the most exhilarating moment of my life. He was an older man, I was underage, naive but very inquisitive. I was in 200level in the university and he sort of took advantage of me by sweet-talking me on how much he liked me and proposing a relationship, just to get my guard down. We started having sex, the first time, I felt very guilty, dirty, and in pain but I wanted more. My body finally got what it wanted but it wasn't enough. Even though I met the wrong person, I met someone who made my feelings make sense. With time I met more people and found dating sites, I started to learn what exactly I liked and what I didn't.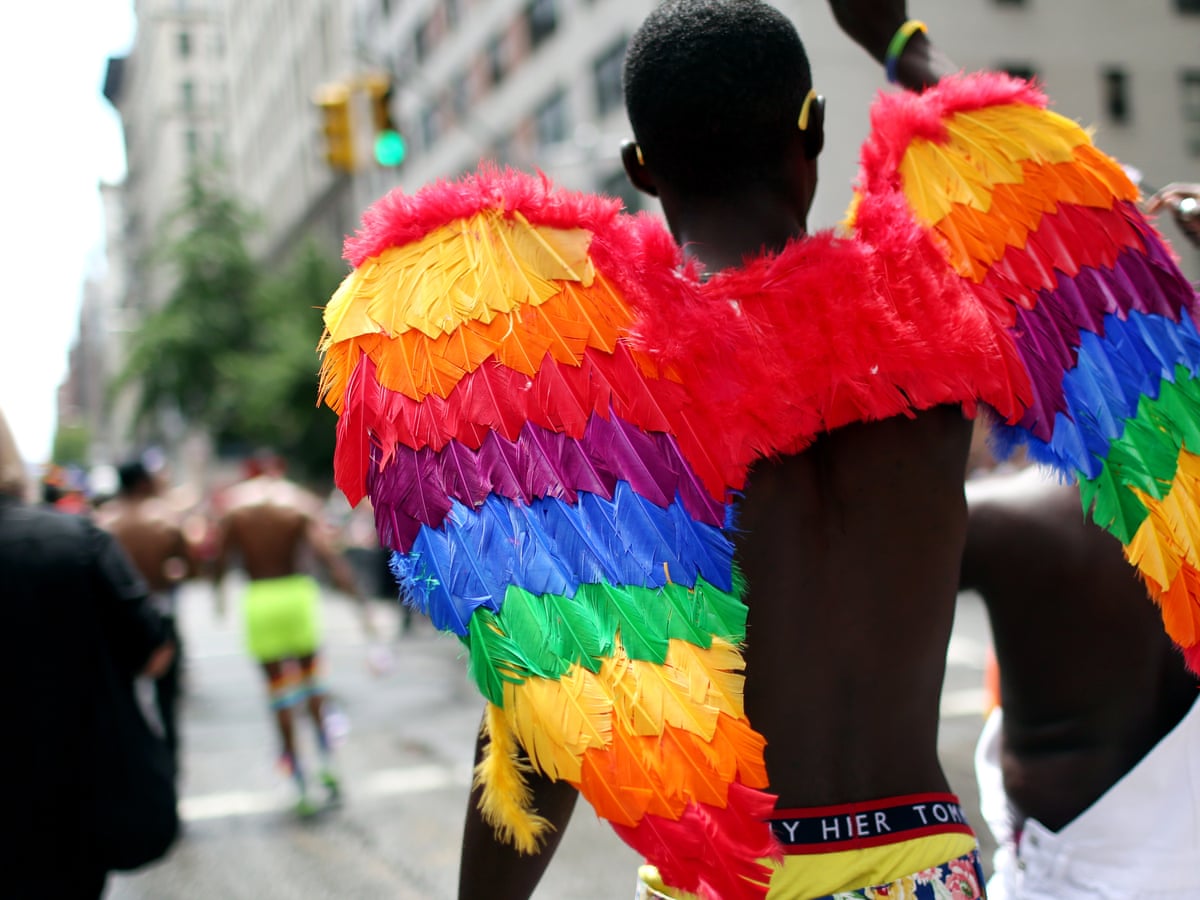 I learned more from people than from any books. I learned about hate from homophobes. I learned about religion. I saw the perspective of religion from religious people. I learned that parents love their children unconditionally: except when they are queer. I learned history and found people that were erased from it. Experience built me.
I wouldn't say I'm out yet. I don't know what exactly to call mine but I never deny it when the conversation around my sexuality comes up. If I'm not comfortable telling you about my sexuality, I don't speak about it. For instance, I don't see myself ever coming out to my parents, until the day they have the courage to have the conversation with me. They make side-talks and remarks about why I do certain things, behave a certain way or have certain kinds of friends but I don't think these are comfortable grounds to start a conversation about my sexuality. 
For my friends, let's just say I make conscious efforts to keep only non-heterosexual people as friends. The likelihood of me remaining friends with you if you don't know my sexuality and you are a cisgender (man especially) is very slim. I'm not saying queer people are the best friends to have, I'm saying they are the safer and more rational friends to have. It's easier to relate when I speak about myself and we learn from each other. Per marriage, I really do not have marriage plans. I don't think it's for me. Co- habilitation, definitely. I would want to spend my life staying with the people I love.
For Evening Juices, Click Here To Follow Us On Instagram!
Nobody has an opinion about my sexuality. If I accept you into my space, it's left for you to come to terms with my sexuality or leave. This is why I have never really been close to my parents because I feel they don't know enough about me (as parents). I can't live in the same space with them and still have to hide, especially at the level of growth I am now at. Till they are ready, things will remain this way.
THE CRIPPLING SAME-SEX MARRIAGE PROHIBITION ACT (SSMPA)
On a surface level, you may never be able to phantom the cruelty of the SSMPA, especially when you are a non-queer person. But when you consider minorities that are queer, you can at least imagine a fraction of how inhumane life feels like for them (except you own no soul). For instance, a poor fat disabled Muslim queer woman, struggling to survive already as a minority, and the death of all, having a law criminalizing you.
For the average queer person, if your social status protects you from the government, its citizens will use the law as an opportunity to harm you. A part of you is constantly being erased because "the law says…". Constantly living in fear every day, at every gathering or meeting you are with queer people because you can be arrested, harassed, tortured, or killed with the backing of the law. And then the general overview; the law criminalizes queer marriage and anyone associated with them. Under Islamic or sharia law, it holds a death sentence.
How cruel…in Bauchi State, a law enforcer pretended to be a gay man to gain access into a meeting held for gay men on HIV/AIDS and its risks and how to have safe sex. He got the names of the people at the event, then arrested one person, used the person to arrest someone else and another and this went on. He would call them for a meeting, arrest them, take them to the police station, beat them up repeatedly and brutally until they finally got 168 names of supposedly gay people. The fact that they could use the phones of someone to contact others; an act that is illegal just shows how much that law validates the brutalization and harassment of queer people. It also shows how it shields younger queer people from learning more about their sexuality and navigating sex and other hurdles in relationships or life in general.
Prepare For Real-life Visual Story Telling!!! Click Here To Subscribe to Our YouTube Channel
Do you know what is worrying? The fact that before the law was passed, nobody was coming out proudly to say they are gay and getting accolades. No queer person ever protested marriage. Gay people were already getting beaten, disowned, and killed, so what exactly was the use of the law? It's sad when you realize it was for political reasons. People's lives were further endangered for political reasons.
It's a wonder that queer people are still fighting and being vocal about being treated like animals with all these really scary circumstances. How bad can it get? As a Nigerian, you cannot exhibit any human right and as a Nigerian queer, you aren't even recognized enough as human to start with. Nigerian queers are like catmint flowers, so beautiful with enough resistance to survive amongst weed and other harsh conditions. The growth is amazing. I feel so proud to be born in this generation and envy the coming generation. Vocal, and persistent. These are the features you start to grow after overcoming fear. I love it!
 YOU'RE ENOUGH!
I would love to round this up by telling young queer people that they are doing enough. Just existing is enough. Accepting yourself is enough. Resisting online with an anonymous account is enough. Navigate your sexuality however you like and with any kind of safety, you can think of, as long as it doesn't ruin someone else's life. Make mistakes and get up with your shoulder up because society has not given you enough room to get it right. Remember, the only people that can understand how you feel, are people like you. Queer people. LGBTQI+ people.
For Further Discussions and Bants, Click Here to Join Our Telegram Channel / Chatroom
Now I'll love to ask some questions; to the queers who've come out, what other advice would you give to a young Nigerian queer trying to find his/her path in a country whose laws are structured against the LGBTQ community? To the straight folks, in all sincerity, the majority of you make it difficult for us to breathe, what are you willing to do differently as regards the LGBTQ laws in Nigeria? Do you think its fair and should be upheld? I'll like to know your stand. Lastly, If you're a queer, or unsure about your sexuality, identify in the comment section, share a bit about you. I'd love to read all of it. It's pride month! a time of self-affirmation, dignity, equality, and increased visibility. Stab the shame and embrace the glory in your sexuality. Leave me your comments below, this should be an enlightening conversation. 😄👇👇
Do not forget to like, rate, and share this article!
 Wish to Support With A Token? Click Here Remember to check in every Friday for New Stories!!
 And if you'll love to get your story featured, Submit Here